Specifications

| | |
| --- | --- |
| Price | Contact us |
| Brand Name | Hanyi |
| Place of Origin | China |
| Min.Order Quantity | 1 |
| Payment Terms | T/T |
| Supply Ability | 1000 |
| Delivery Detail | 5 days - 20 days |
| Packaging Details | Standard export wooden case or carton box |
Detail Introduction
There are two types of ultraviolet lasers: air-cooled and water-cooled. Generally, water-cooled lasers are more commonly used.
Shanghai Hanyi Engineering Equipment Company is one of the most experienced manufacturer of Laser marking machines in China.
Working principle and characteristics
The UV laser marking machine is developed based on the 355nm UV laser. The machine adopts three-stage intracavity frequency doubling (THG) technology. Compared with infrared lasers, the 355nm ultraviolet light has a very small focusing spot, which can greatly reduce the mechanical deformation of the material and has minimal thermal impact.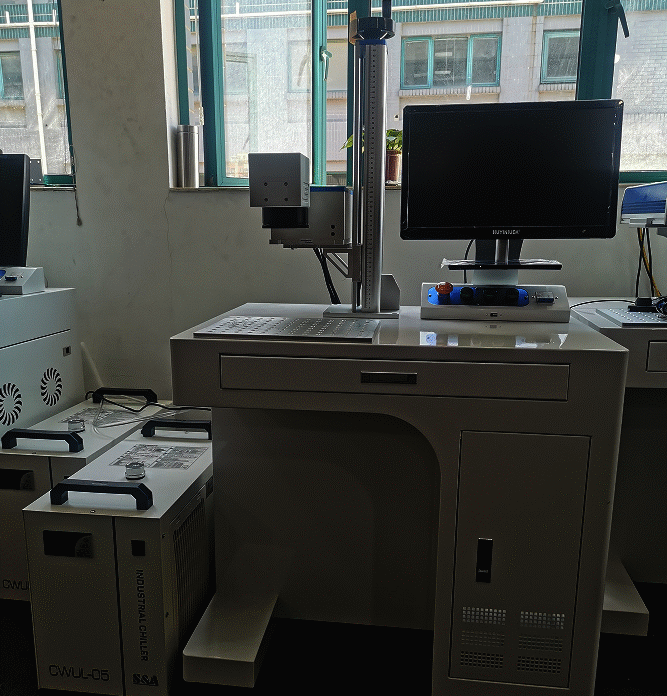 Model features
1. Pumped by an inlet semiconductor laser, a 355nm wavelength laser is outputted in an optical resonance cavity for 3 times frequency doubling, and the beam quality of the high electro-optical conversion efficiency is TEM00 mode.
2. Ultraviolet laser is a cold light source, with a small heat-affected area, and excellent beam quality, which can create ultra-high precision marking results.
3. Using high-speed scanning, the marking speed is fast, and it is suitable for micro-cutting and drilling.
4.Ultra-high peak power rate and minimal thermal effect characteristics, very suitable for materials such as aluminum oxide, plastics, etc.
5. The laser is 20,000 hours free of maintenance, no consumables, low cost, and energy-saving.
6. One-body modular design, easy to maintain, compact in size, and environmentally friendly.
7. The software can receive DXF, PLT, BMF, AI, JPG and other formats, and can automatically generate serial numbers and production dates, bar codes, and two-dimensional codes.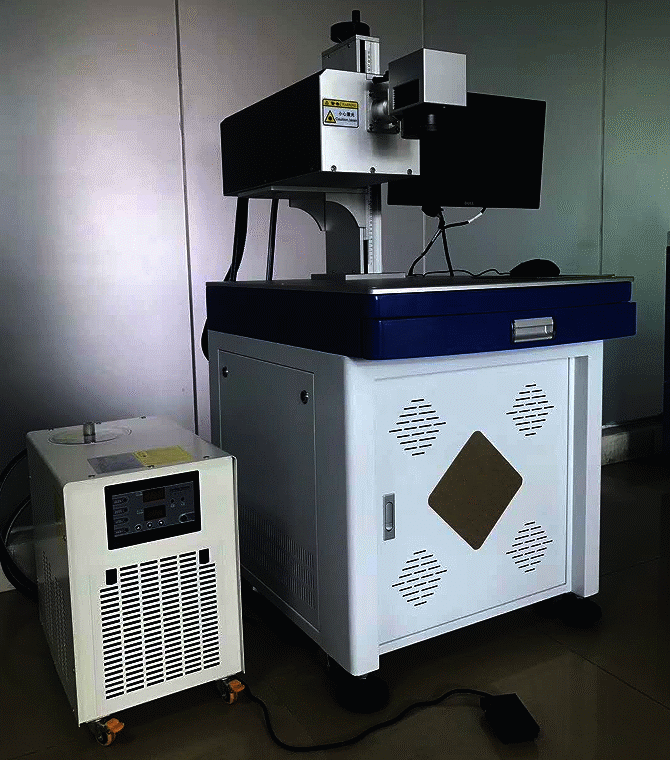 Applicable scope
Suitable for automotive electronic parts, plastic parts, mobile phone parts, LCD screen engraving two-dimensional codes and trademarks, ceramics, sapphire tablets, FPC flexible circuit boards, micro-hole drilling, cutting bio-engraving, electro-cut bio-engraving glass, touch-sensitive glass ITO screen.
Applicable materials
Plastic parts and various metal materials, ceramics, sapphire sheets, glass, transparent polymer materials.
Laser performance parameters
Laser output power: 3W/5W
Laser wavelength: 355nm
Laser Q-switching frequency: 0-90KHz
Engraving range: 110×110mm-180×180mm
Beam quality: ≤1.1M2
Excitation source: Semiconductor 808nm pump source
Engraving depth: ≤0.1mm (depending on the material)
Engraving line speed: ≤18000mm/s
Minimum line width: 0.01mm
Minimum character: 0.1mm
Repeatability: ±0.001mm
Power consumption of the whole machine: 1200W /1300W (the whole machine includes a laser water chiller)
Power supply requirements: single-phase 220V/50Hz/10A